An implant is a small titanium screw that fuses with the bone thus permanently replacing the root of the tooth. As with any surgical procedure, there is a possibility that the body will reject the built-in replacement.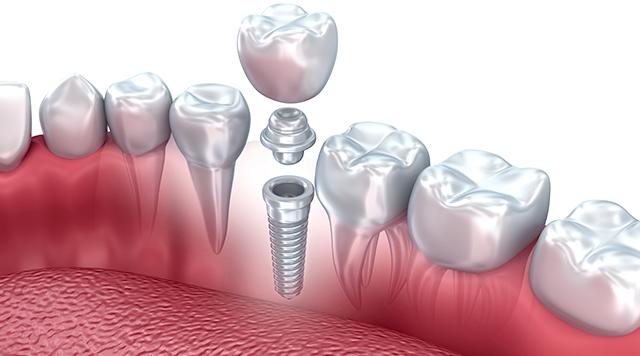 Most Croatian dental clinics have been fitting dental implants for many years with great success. Because of this, Croatia is one of the most common destinations to which people from Europe, and especially Italy, Switzerland, Austria and Germany, come to place the implants.
To be sure of the success of the procedure, the following questions should be asked:
What kind of dental implants should be chosen?
Together with titanium, completely ceramic implants are also produced. Implants have different lengths and widths depending on which part of the jawbone they are to be fused. Furthermore, implants have different surfaces, which are more suited to the better result of osseointegration. Depending on the quality and amount of available bone, by making the right choice of implant we can avoid surgical procedures such as bone augmentation and sinus lifting. Before placing an implant, it is necessary for your doctor to make the right diagnosis and to explain the state of your jaw as well as to suggest any other implant therapy options to you.
What is the cost of placing dental implants?
Price is often crucial to the choice of implants. If your clinical picture is good and your body is immunologically resistant, and if you have a healthy jaw bone of good volume, there is very little possibility of your rejecting the implants. New technologies have enabled implant manufacturers to produce high quality implant surfaces that easily and quickly bind to the bone. With the complexity of making the surface and quality of the material, implant prices can drastically increase. The quality of the implant will improve the performance of the procedure for those who have health issues, thus it is necessary to choose an experienced implantologist and consult him in order to find the best solution.
Which are the best dental implants brands?
The implants used by most dentists in Croatia and around the world, which have been shown to have the highest percentage of success in construction are those made by Straumann and Nobel Biocare. They have been on the market for a long time, and have been behind a large number of implants fitted, making constant investment into innovative and quality implant surfaces that bond to the bone faster and more easily. These qualities have established these brands as a standard within the implantology industry. Besides these, many dentists also consider Astra Tech, Megagen, Implant Direct, Dentium, BTI and many other quality implants too. It is important that you get a quality certificate and a guarantee with every implant you have fitted. The guarantee is lifelong for high quality implants, while for those of lower quality it is 10 years. So-called Low Cost implants should not be a desirable option as they are produced in small quantities of inadequate quality materials and are prone to cracking and may cause other complications that can lead to more serious surgical interventions.
DMD Tihomir Komadina
The clinics in Croatia that offer lifelong guarantees to their implants are listed below: