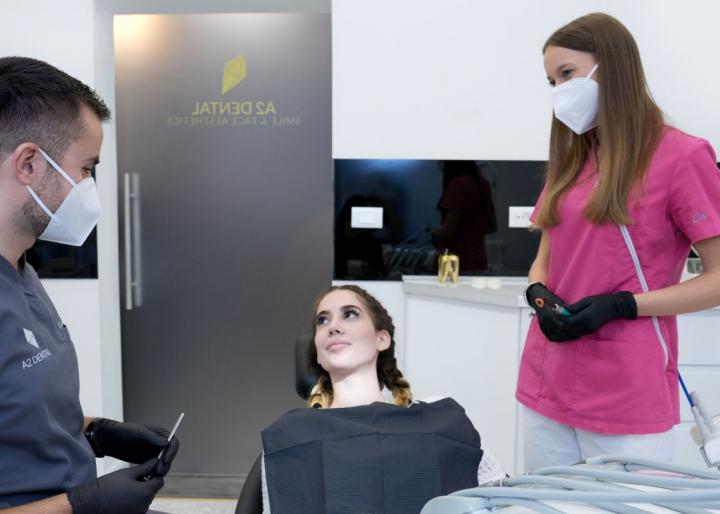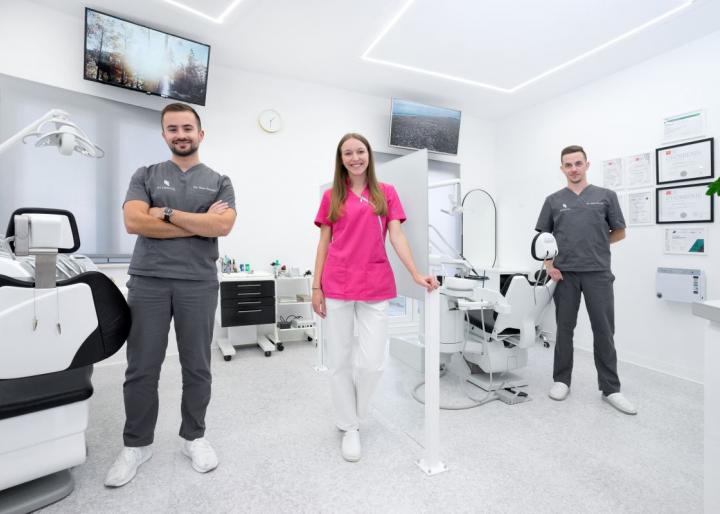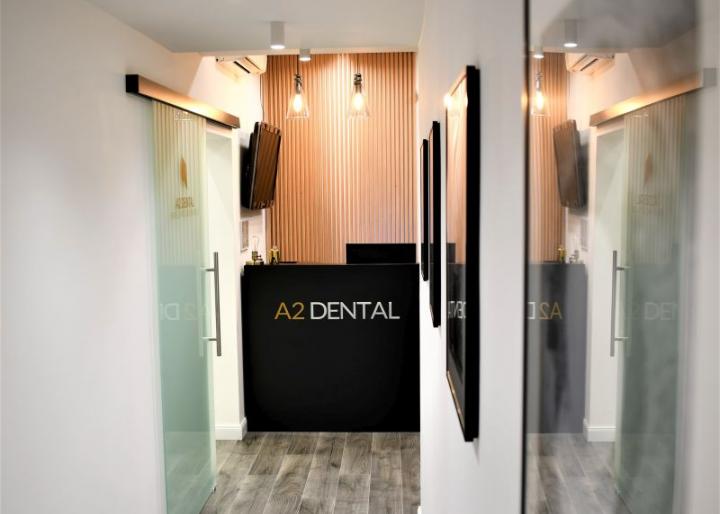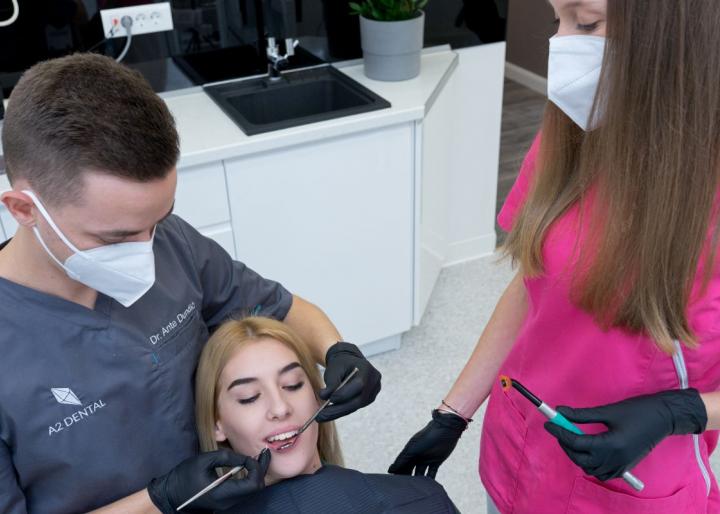 If You are looking for a different approach when visiting dental clinic abroad A2 Dental Clinic is the right choice for You. What differs us is the insistance on individuality, privacy and exclusivity and not on quantity.
Our team members are the perfect combination of youth and experience, and they are speaking German and English. They use state of the art technology combined with newest treatment options and do not stop there. Continuous education and strive to greatness are their imperative.
Location
Is there a better place to have a dental treatment than just a few steps away from the beautiful beach and crystal clear Adratic sea? Our exclusive position on the island of Čiovo gives You that opportunity. Before or after treatment You can pack Your swimsuit and enjoy the sun, sea and a beautiful beach. It is not just a dental treatment, it is a soul and body treatment.
The Unesco World Heritage city of Trogir is a 5 minute drive from the clinic. Experience the city that is an excellent example of a medieval town built on and conforming with the layout of a Hellenistic and Roman city that has conserved its urban fabric to an exceptional degree and with the minimum of modern interventions, in which the trajectory of social and cultural development is clearly visible in every aspect of the townscape.
Our clinic is located in a 4 star hotel complex, and that is one of our biggest advantages. The airport is just a 10 minute drive away, and it is very well connected to to the major european cities. Your accomodation, transfer and additional activites will be organized by our staff. You will not have to worry about anything.
Guarantee
All of our work comes with a warranty, guaranteeing our quality.
Contact us before the arrival for a free therapy plan
Send us an panoramic X-Ray beffore You arrive at the clinic and get Your therapy plan and estimated cost for FREE. Each offer will contain a detailed description of the treatment with an estimated length of stay.
We look forward to Your arrival!
Diagnostics
Digital panoramic radiograph (from 20 €)

X-ray of the maxillary bone is aimed at setting a correct diagnosis and determining the therapy dynamic.
Implantology
The implant permanently modifies the root of the missing tooth. The integration of dental implants is a permanent solution, aesthetically and functionally better in case of lack of one, more or all the teeth.

There is the possibility of placing a bridge with several crowns on 2 implants without additional intervention on adjacent healthy teeth.

Fixed bridge on 6 dental implants

Aesthetic and functionally more demanding prosthetic work such as a zirconium ceramic or glass ceramic bridge can be placed on 6 implants.
Dental prosthetics
Crown on natural tooth (from 160 €)

With the placement of the dental crown, the remaining part of the tooth is kept and the appearance and functionality are restored.

If you are not suitable for implantology, a bridge of 3 or 4 parts will be fixed on 2 adjacent teeth.

Inlay, Onlay, Overlay - better adhesion to a damaged tooth surface and excellent aesthetics are the main advantages of this work compared to composite fillings.

Ceramic veeners (from 280 €)

By positioning the veeners on the front surface of the tooth, the irregularities are corrected and the desired color, shape and size of the tooth are obtained.

Metal ceramic crown (from 160 €)

The metal-ceramic prosthetic work boasts high strength, durability and aesthetic value.

Zirconia ceramic crowns (from 240 €)

High-strength antiallergic prosthetic material that meets the highest aesthetic standards.

Ceramic crowns E-MAX (from 240 €)

The new prosthetic materials guarantee high strength and high aesthetics without a metal base.
Dental aesthetics
Teeth whitening is performed in the clinic; otherwise splints can be created for the night use.

According to the client's wishes and in just one visit, more types of jewelry can be placed into natural teeth or crowns.

After a computerized analysis, the planning and digital design of the smile begins.
Dental restoration
Endodontic techniques are used to remove the dental nerve, while the root is being filled and the tooth is being treated.

Composite fillings (from 30 €)

Composite fillings are used to remove minor dental imperfections caused by caries, thus restoring dental aesthetic appearance and functionality.
Oral surgery
Tooth extraction (from 35 €)

If the tooth damage is too great or strong inflammatory processes are detected, the tooth extraction is applied.

In the absence of bone, prior to surgery, the maxillary bone grafting is applied to obtain the required bone volume.

Maxillary sinus floor augmentation

By inserting a special mass in the sinus we obtain the volume required to integrate the implant.

Removal of granuloma (from 150 €)

Apicoectomy is the surgical removal of the root-end cysts.

Wisdom teeth extraction (from 150 €)

Alveotomy is an ordinary surgical procedure used for the extraction of the wisdom tooth under local anesthesia.

Impacted teeth extraction

Corticotomy is the simple surgical extraction of impacted or ingrown teeth and residual dental roots under local anesthesia.

Cyst removal is a surgical procedure used for the removal of cysts under local anesthesia.
Orthodontics
Adults can correct irregularly grown teeth in just 6 months with a transparent mobile braces.
Doctors
Alen Štrbac, dr.med.dent.

Ante Dundić, dr.med.dent.
Working hours
Closed. Opens on today 09:00
Mon
Tue
Wed
Thu
Fri
Sat
Sun
13:00
13:00
13:00
09:00
09:00
-
-
20:00
20:00
20:00
16:00
16:00
-
-
Location
Cesta Domovinske Zahvalnosti 2, 21224 Slatine, Croatia