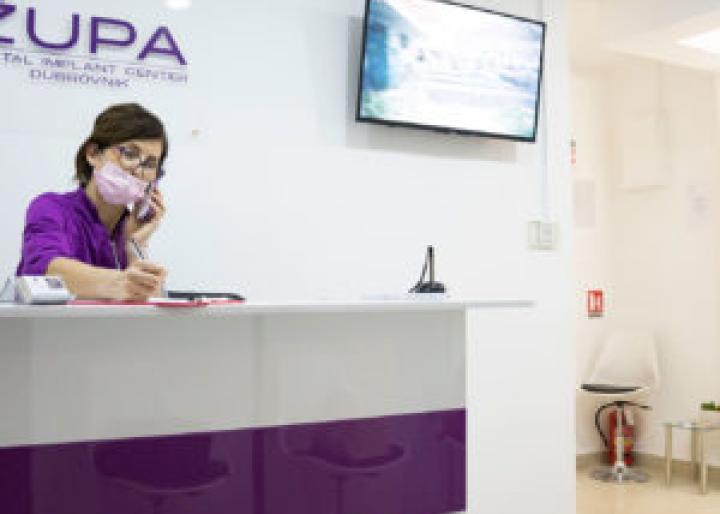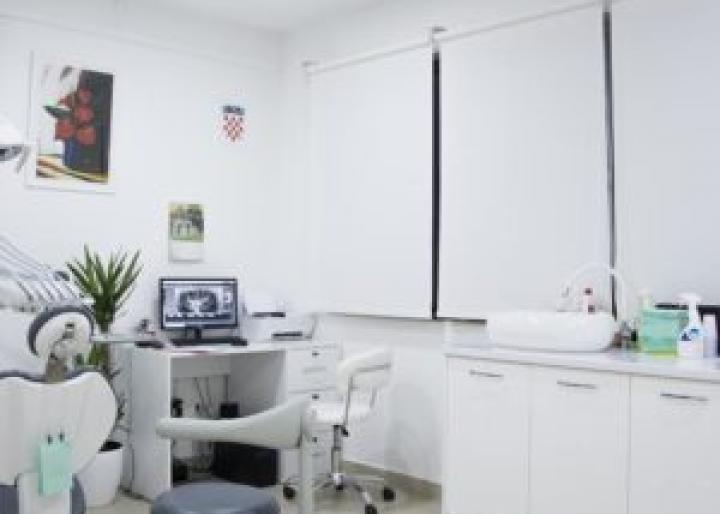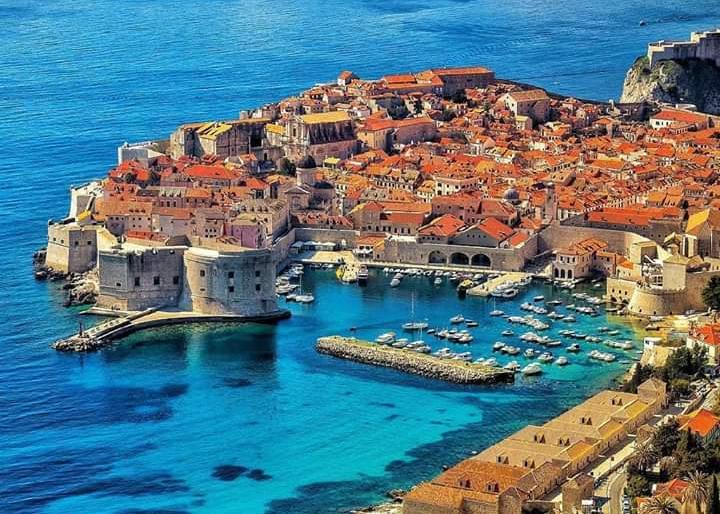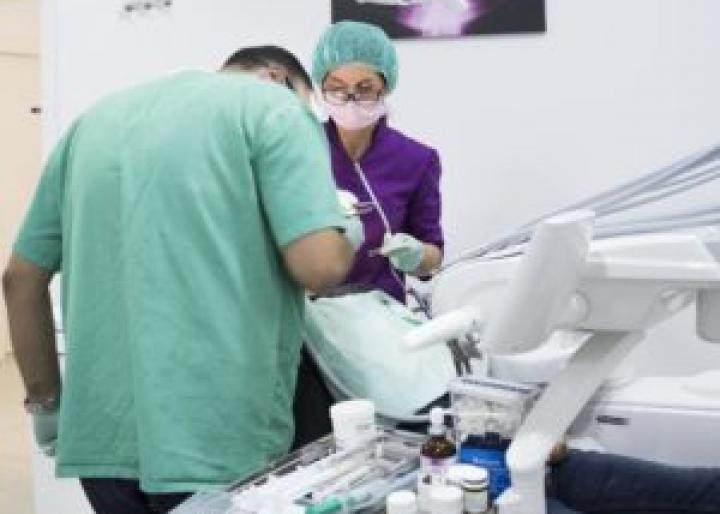 The dentist in Dubrovnik equipped the office with the latest diagnostic and dental devices and gathered a team of excellent dentists and support staff. For guests from abroad, he organized a transfer from the airport to organized accommodation, transfers to the dentist and a suitable trip for our clients..
Number of dental studios 3
Organized accommodation
Parking lot
Diagnostic Center
Free Medical Examination
Free transfer from airport
Diagnostics
Digital panoramic radiograph

X-ray of the maxillary bone is aimed at setting a correct diagnosis and determining the therapy dynamic.

The digital display of the bite provides a high precision in the construction of bridges and crowns in order to guarantee a high aesthetic and functional value.
Implantology
Dental implants (from 350 €)

The implant permanently modifies the root of the missing tooth. The integration of dental implants is a permanent solution, aesthetically and functionally better in case of lack of one, more or all the teeth.

Crown on implant (from 250 €)

By placing the crown on the implant, we replace the missing tooth without additional intervention on the adjacent healthy teeth.

Implant-supported bridge (from 2400 €)

There is the possibility of placing a bridge with several crowns on 2 implants without additional intervention on adjacent healthy teeth.

A bridge is supported by 4 Nobel Biocare implants that resolves total edentulism without invasive surgical procedures, such as sinus lift and bone graft.

6 implants allow the placement of prosthetic works functionally and aesthetically more advanced, such as zirconia-ceramic or glass-ceramic bridge.

Nobel implants (from 750 €)

Implants with a lifetime warranty.

Implants with a lifetime warranty.

Denture fixed on 4 to 12 dental implants
Dental prosthetics
Ceramic fillings (from 130 €)

Inlay, Onlay, Overlay - better adhesion to a damaged tooth surface and excellent aesthetics are the main advantages of this work compared to composite fillings.

Ceramic veeners (from 200 €)

By positioning the veeners on the front surface of the tooth, the irregularities are corrected and the desired color, shape and size of the tooth are obtained.

Metal ceramic crown (from 250 €)

The metal-ceramic prosthetic work boasts high strength, durability and aesthetic value.

Zirconia ceramic crowns (from 300 €)

High-strength antiallergic prosthetic material that meets the highest aesthetic standards.

Ceramic crowns E-MAX (from 350 €)

The new prosthetic materials guarantee high strength and high aesthetics without a metal base.

Manufacture of final works, dental crowns, dental bridges and dental prostheses in a dental laboratory which are fixed on implants or natural teeth.
Dental aesthetics
Teeth whitening is performed in the clinic; otherwise splints can be created for the night use.

Laser teeth whitening (from 120 €)

With this technique, in only 45 minutes the teeth can be whitened from 1 to 2 shades.

After a computerized analysis, the planning and digital design of the smile begins.
Dental restoration
Endodontic techniques are used to remove the dental nerve, while the root is being filled and the tooth is being treated.

Composite fillings (from 30 €)

Composite fillings are used to remove minor dental imperfections caused by caries, thus restoring dental aesthetic appearance and functionality.
Oral surgery
Tooth extraction (from 20 €)

If the tooth damage is too great or strong inflammatory processes are detected, the tooth extraction is applied.

Bone grafting (from 200 €)

In the absence of bone, prior to surgery, the maxillary bone grafting is applied to obtain the required bone volume.

Maxillary sinus floor augmentation (from 300 €)

By inserting a special mass in the sinus we obtain the volume required to integrate the implant.
Anesthesia and procedural sedation and analge
All dental procedures can be performed under local anesthesia, which eliminates any sensation from the affected area.
Doctors
Zoran Primorac, dr.med.dent.
Working hours
Closed. Opens today at 08:00.
Mon
Tue
Wed
Thu
Fri
Sat
Sun
08:00
08:00
08:00
08:00
08:00
08:00
-
20:00
20:00
20:00
20:00
20:00
20:00
-
Reviews

Dr. Primorac was extremely warm, professional and informative, putting me at ease and explaining everything. The professionalism and friendliness of the whole team is outstanding. I am smiling with confidence again.

I am very happy with the level of service and organisation. Personnel is professional and above all kind. Prices are more than affordable. Clinic is near Old town so I had time to enjoy in beautiful Dubrovnik

Great atmosphere in the office, capable team of doctors. Organization at high professional level. We had a personal driver and an air condicioned car. It was always the same driver, at the end we became friends. I loved the vicinity of clinic- hotel – and Old Town. We were very pleased with the whole service.

I've been to several dentists in my life but Dental tourism Dubrovnik really stands out from rest. I love the attention to details and quality of the service they provide is outstanding. From the moment I stepped through the door I felt welcomed and comfortable. Personnel were extremely friendly and helpful, they managed to organise everything, from accomodation,transfers, activities and of course dental appointments.
Location
Put Don Antuna Kriletića, 20207 Mlini, Croatia