13.01.2020.
Why patients prefer the All-on-4 method?
All-on-4 is a dental procedure which includes the installation of a fixed denture with 12 teeth, mounted onto 4 implants which resolves the problem of edentulism in one visit.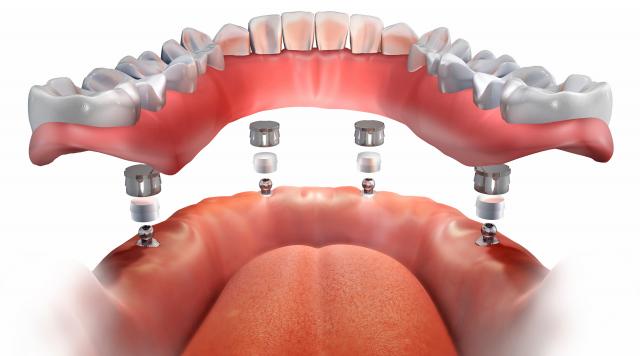 The main advantages of a dental bridge on 4 implants are:
the acceptable price
the minimum number of placed implants
the maximum number of fixed bridge teeth-12
the installation of a temporary prosthesis on the first day of therapy
being able to avoid major surgery interventions such as bone augmentation and sinus lift
the easy maintenance of dental hygiene
being able to restore the functionality of natural teeth
being able to restore the aesthetics of natural teeth
a minimum number of visits to the dentist
The implant is a small titanium screw installed into the jaw bone which permanently replaces the root of the tooth. With the All-on-4 technique, the dentist inserts 4 implants into the jaw bone. Two implants are installed at the front of the jaw while anothr two implants are installed at the back at an angle of 45 degrees. This avoids invasive surgery such as a maxillary sinus lift as well as avoiding a long recovery period. A fully functional and aesthetically satisfactory temporary prothesis is placed on the 4 implants on the same day.
The patient will wear this prosthesis for approximately three months until the process of osteointegration or integration of titanium implants to the bone is completed. After this period, the dentist will take a digital or mechanical bite imprint from the patient in order to produce the final prosthetic ceramic or composite dental work. The final 12-tooth prosthetic bridge is made in a dental laboratory equipped with state-of-the-art machinery for the creation of dental crowns, bridges and protheses with micrometric precision. In modern dentistry, cementing of the bridge is avoided, but rather a ceramic bridge is attached to the implants using 4 screws. Thanks to this, the dentist can easily remove, clean, repair or replace the bridge in case of damage.
Patients often choose this procedure because of its rapid creation, short recovery period from surgery (2-3 days), and low number of dental visits (2-4 visits). The final prosthetic work restores the function of natural teeth, proper chewing and also provides the satisfaction of superior aesthetics and the restoration of a natural youthful smile and facial features.