Dental clinics in Croatia are known for following trends and the latest dentistry technologies in order to provide clients with the best level of medical service at affordable prices. Highly qualified, experienced dentists and modern, well-equipped dental practices as well as diagnostic centres with top dental labs in Croatia are a standard and not an exception.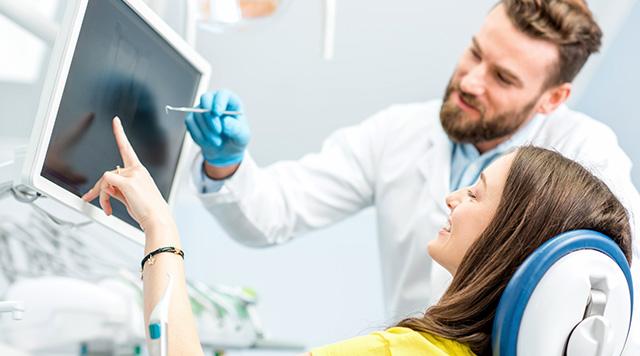 Fast and accurate diagnostics
Diagnostic centres in Croatia are mainly equipped with 2D and 3D diagnostic devices that enable the doctor to set up a fast and accurate diagnosis and quality treatment. Along with 3D TAC and classical 2D panoramic radiographs, RVG is also often used which, depending on need, only displays certain segments of the jaw with very low levels of radiation. High quality jaw images enable the surgeon to execute the precise and correct positioning of the implant according to height and thickness as well as the quality of the jawbone, and a high percentage of procedure effectiveness.

Top quality dental work
In everyday practice, Croatian dentists use intra-oral cameras, which provide a zoomed image displayed onto a screen of the work performed on the teeth at very high resolution, thus avoiding the mistakes that occur when the procedures are performed by viewing the tooth with the naked eye. In the treatment of teeth, many Croatian clinics use lasers. With this technique, the work on the tooth is completely painless and only the sick part of the tooth tissue (caries) is removed whilst the healthy part of the tooth remains completely intact. The laser is also used in the treatment of soft tissues, in endodontics, cyst removal, surgery and similar procedures, where the wound becomes completely sterile and heals much faster.

Modern dental labs

Well-equipped dental labs with digital processing when it comes to the creation of prosthetic work achieve the highest aesthetic and functional standards of your temporary and permanent crowns, bridges and prostheses in a very short time. Dental impressions using impression material is spoken about in the past tense. Modernly equipped Croatian laboratories use the latest CAD-CAM technologies. Digital imprints are taken and processed using intraoral scanners, creating mages of perfectly shaped crowns and bridges. New dental replacements are made with 3D printers or automated milling machines of desired materials.
The final works are made with maximum precision, and without the need for additional processing as they are positioned on damaged teeth or implants.