27.09.2022.
Author: Majda Dželalagić Adžajlić, dr.med.dent.
Dental veneers
Veneers are a fixed-prosthetic replacement that are mainly made for front teeth, with the aim of achieving superior aesthetics.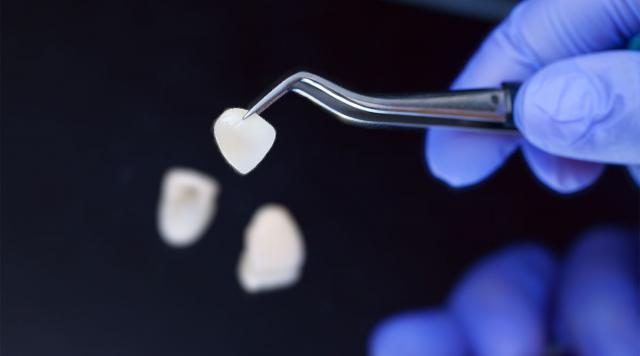 They are very thin and stick to the visible outer side of the tooth. They are made of full ceramic, a material characterised by its biocompatibility and transparency. Ceramic is used to make the veneers reflects light perfectly, like a natural tooth, achieving maximum naturalness in appearance.
Veneers are ideal for correcting minor aesthetic defects, such as closing gaps between teeth and correcting inappropriate shape, size or colour of natural teeth.
The advantage of veneers is that they require minimal preparation, that is grinding of the tooth surface (approximately 0.5 mm), which is significantly less than for other types of solution, for example for the placement of dental crowns. Minimal tooth preparation saves the hard dental tissue as much as possible.
The entire procedure is completely painless and is performed under local anaesthesia. Between visits to the surgery and completion of the work, teeth are protected with temporary veneers.
Before the placement of veneers and given that they are characterised by minimal thickness (they are actually very thin), the teeth themselves must be healthy, well-preserved and without large fillings.
 Croatian dentists also makes "non-prep" veneers, because of which there is no need to grind the surface of the teeth and therefore no need to use anaesthesia. However, indications of an ideal candidate for this type of work are quite rare. It is necessary to make a detailed examination of the patient in order to assess whether he or she is the right candidate for the creation and application of the afore-mentioned type of dental replacement.
 Following consultation, at least two visits to the dental surgery are required until the final solution is made. The duration of the production itself depends on the situation being corrected and on the number of veneers being made.
 The laboratory uses the most advanced technology for the production of prosthetic replacements. CAD CAM computer design technology creates replacements of perfect shape and size, which with its characteristics satisfy even the most demanding cases.
 In addition to CAD CAM technology, veneers are also made by manual modelling onto a fire-resistant stump, created by a technician. Such an approach guarantees very high aesthetics and a client-tailored approach.
 After attaching veneers using the cementation process, it is necessary to maintain proper oral hygiene, which guarantees their longevity and preservation of the patient's oral health.
 Ceramic veneers, as a solution in dentistry, represent the very pinnacle of demands in a personalised approach to the client, and the very complexity and precision of manufacturing, and their superior long-term solution meet the expectations of patients who have expressed a desire for a high-class prosthetic replacement.
 The price of veneers at Croatian dentists is around EUR 300 per tooth.