08.12.2021.
Author: Marin Karabaić, dr.med.dent.
Process of dental implant placement with crown
A dental implant is a prosthesis made of titanium that is placed in the bone to replace a lost tooth. In the event of tooth loss, it is important to replace the tooth with a dental implant to restore the patient's facial physiognomy, aesthetics, and functionality of the tooth, regaining the patient's self-confidence.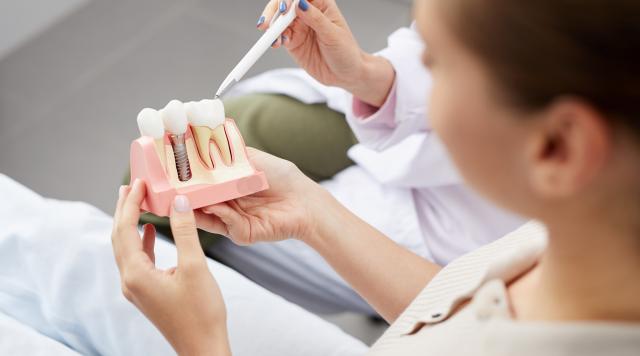 The remaining tooth may need to be removed due to a number of factors, including vertical fractures, granulomas, cysts, fractures of the crown of the tooth, retained deciduous teeth, trauma, periodontal abscesses, and dental implants. As a result, each of these diagnoses has its own set of rules regarding the implantation of dental implants.
How many visits will it take to install a dental implant and create a tooth?
Visit 1
On the first visit to the clinic, the patient must undergo a clinical examination and an X-ray to assess the amount of bone and determine how implants will be placed. It is ideal to install a dental implant and temporary crowns on the same day the tooth is extracted if the situation is suitable. The procedure itself is completely painless and is usually completed in less than half an hour. Following the surgery, an impression is taken so that a temporarily fixed tooth can be made, which is then attached to the dental implant that was previously installed. Upon leaving the dental clinic, the patient receives detailed instructions about oral hygiene and rules of conduct until their next appointment.
Visit 2
At the second visit, usually 2-3 months after implant placement, we remove the temporary crown and take an impression of the final crown. During this visit, the dentist and the dental technician will define the color and shape of the future tooth. This procedure is completely painless and can be completed in just 30 minutes.
Visit 3
During the third visit, the dentist fixes the final tooth. If the patient has specific requests regarding the color or shape of their teeth, it is necessary to make a correction that can be completed the same day within two hours.
Along with regular checkups, an implant can be a tooth replacement that lasts a lifetime.