30.06.2020.
Author: Marin Karabaić, dr.med.dent.
Why choose zirconia ceramics for dental crowns and bridges?
Zircon crowns are made of solid ceramic. They are characterised by high strength and aesthetics, and are perfectly adapted to the characteristics of natural teeth, giving the smile a natural look.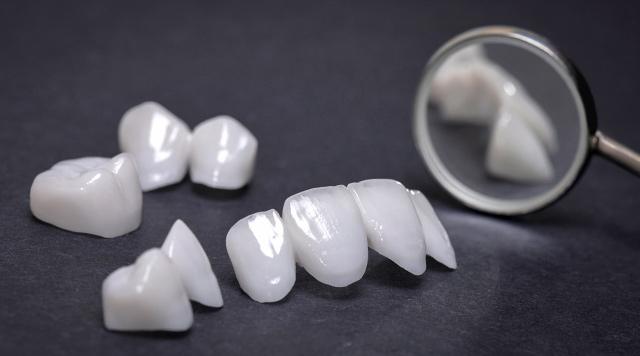 Zircon has been present in dentistry for many years, but mainly due to their price and simpler production, metal-ceramic crowns are still the most common crowns on the market. With the development of the characteristics of the materials themselves, but also the manufacturing technique, zircon now takes first place when it comes to the offer for our patients.
Zircon crowns and bridges are characterised by high strength and a reduced possibility of fracture in the ceramics as well as of the tooth itself as the crown support. For this reason, nowadays not only are crowns and bridges made of zircon, but also inlay, onlay and overlay ceramic fillings, which replace the classic composite fillings that are softer, and can crack and discolour.  Zircon not only does not change colour over the years, but achieves better aesthetics and longer-term sealing by preventing the formation of secondary caries.
The biggest advantage of zircon as a material for making crowns is its biocompatibility, which does not cause possible allergic reactions, unlike previous crowns with the presence of nickel, and does not lead to irritation and receding gums.
The creation of a zircon crown is more demanding than that of a classic one. Tooth preparation requires much greater precision, although tooth grinding is reduced compared to before, thus preserving the remaining healthy part of the tooth tissue to the maximum. Zircon crowns are made using CAD/CAM digital machine technology by which a micrometre precision in the production of zircon dental prostheses is achieved. Model scanning, digital processing and design, and zircon block machining have greatly shortened production time. This is why today it is possible to get a crown or bridge on grinded teeth or implants, as well as full zircon teeth upgrades in one day at clinics that have their own laboratory equipped with digital CAD/CAM technologies.
Nowadays, zircon crowns have become the gold standard when it comes to the material of choice for making a crown. Recommended portal clinics follow these standards and improved quality to the satisfaction of their patients by educating their staff and investing in new technologies.